Body
Early Brake Cross-Shafts
Hinge Pin Removal
Bud Vases

Early Brake Cross-Shafts
SECRET FORD MODEL A RECALL
It is now common practice for vehicle manufacturers to issue public recalls to rectify manufacturing faults.  In the time of the Ford Model A manufacture, this was not common practice.  In 1928 it was a different world when the individual was ultimately responsible for looking after himself.
The initial Model A brake mechanism was designed to apply equal pressure on all four brake rods through a complex system of equaliser lever and sliding pivots on the two cross shafts.  Two stops were formed from the frame cross member and assisted the adjustment procedure (Refer Jan.1928 Ford Service Bulletin).  To simplify adjustment, Ford replaced the adjustable brake rods with nonadjustable rods possibly as early as April 1928.  In June 1928, the Service Bulletins commented that the stops in the back flange of the centre cross member were now eliminated.
In correspondence to the Ford Dealers reference was made to the installation of a "mystery" part on cars which were manufactured without the brake shaft stops.  This involved vehicles manufactured from approximately mid April 1928 to September 1928, i.e. some 250,000 cars.  It was found that these stops prevented any possibility of the brake equaliser coming out of the brake operating shaft.  This implies that in some cars the brake system had fallen apart!!
The dealers/service outlets were instructed to install part No, A-2476 on the frame cross member to form the stops that had been removed.  Further more it was deemed not necessary to bring this modification to the attention of the owner.  To the best of the writers knowledge, part No. A- 2476 was not listed in any Ford Parts Price List.
In November 1928 Ford reported that the complicated equaliser cross shaft assembly had been replaced with a single one piece cross shaft.
If you have a 1928 Model A with the original brake assembly, check that the cross member has the stops, i.e. the original stops formed in the cross member or the retro fitted part, (A-2476)
John Moorehead, MARC WA Newsletter Jan 2017
Top of page

Removing Difficult Hinge Pins
In order to fit my new external mirrors to my Sports Coupe, the top hinge pins needed to come out.  After a week of spraying them with Break Away (my latest highly recommended penetrating spray), and thumping them with a pin punch and gympie, they hadn't budged.
After searching the internet, canvassing expert and non-expert opinions, I was almost at the stage of trying to remove the hinges (would that have been any easier?), using heat, and re-painting them.
Then in the wee hours of one morning (when I thought I was asleep), I came up with the successful solution.  It involved the use of my cheap, monster 1500W hammer drill/jack hammer (pictured).
Using my normal drill, I drilled a small dimple in the bottom of the hinge pin to try to stop the pointed chisel tip from sliding off.  Because I couldn't get the big jack hammer directly under the hinge, and it was always going to jump off towards the car, I notched a piece of wood for my accomplice to hold to keep the chisel tip in position.
After that preparation, one pin took about 10 seconds of high pressure and heavy percussion before it popped-free, while the other came free very quickly.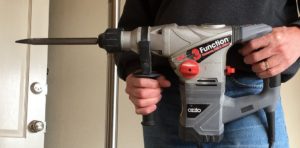 Sadly, it appears Bunnings don't sell this beast anymore.  My recollection is that it only cost about $100 about 8 years ago.  If you need to drill through concrete and your normal hammer drill is struggling – this thing makes short work of it.  And if you need to breakup brickwork, the big chisel tip slices through mortar.
I didn't think to take a photograph of this at the time, so this "after the event" shot shows the chisel tip under the new mirror bolt instead of under the old hinge pin.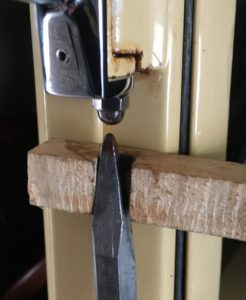 Ian Steer, MARC WA Newsletter July 2018
Top of page

Bud Vases for Closed Cars
For those interested in a pair of Bud Vases for their closed car who find the price (US$195) a little high for repro units considering what they are, and baulk at the cost of original sets, this hint offers a good alternative.
If you are savvy in using Ebay, you may find the search criteria "bud vase" not very productive and, if original car bud vases are found, very expensive.  Try your search using the word "epergne".  Epergne is often used to describe a bud vase as used in a house, but luckily for us sometimes epergne is used to describe original vintage car bud vases.  If your search does not yield a set of original car bud vases and you are impatient, then with a little imagination, patience and research you could find pairs of small house vases in a very wide range of designs, colours and sizes that may be just as suitable.  Look for pairs.
You will probably need to fabricate a bracket or, alternatively, Snyders sell brackets if you are sure the epergne vase will fit.
Hint: Remember those chrome stand tea candle holders popular a few years ago?  The individual candle holders are perfect as brackets.  These litter your local Salvo or Good Sammy shop for $1, and with a little effort you can make many brackets from one stand.
Be aware: Most epergne on offer will be household flower display vases and as such not suitable for our use.  So for something which looks promising, it is important you seek a full description, including dimensions and overall appearance, and you will need to consider how you will attach the bracket to your car.
I am sure you will find something unique for your Model A closed car for much less than the standard repro car bud vases on offer.
If it all sounds too challenging Snyders have nice bud vase sets and brackets to suit for US$195 vase pair + US $49.95 brackets.
Fred Manwaring, MARC WA Newsletter June 2012
Top of page